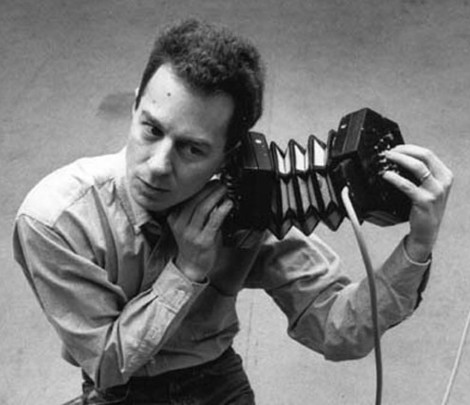 ---
The Konrad Boehmer Visiting Professorship is an initiative of the Konrad Boehmer Foundation in collaboration with the Royal Conservatoire. This special guest professorship will be occupied annually by a leading innovator in the field of electronic music.
The Konrad Boehmer Foundation has launched a guest professorship within the framework of the original objectives set by its namesake, in cooperation with the Royal Conservatoire in The Hague, to promote the practice and study of trends in modern music whose innovative character has as yet no public support.
After Trevor Wishart (2016) and Horacio Vaggione (2017), The third Konrad Boehmer Visiting Professor is the American composer, performer and electronic music pioneer Nicolas Collins, who will be resident in The Hague in March 2018 and April 2019.
The composer, performer and electronic music pioneer Nicolas Collins (New York, 1954) has been appointed Konrad Boehmer Visiting Professor for Musical Innovation at the Royal Conservatoire in The Hague. In March 2018 and April 2019, Collins will give lectures, workshops and participate in concerts.
New York born and raised, Nicolas Collins studied composition with Alvin Lucier at Wesleyan University, worked for many years with David Tudor, and was an active participant in the New York improvised music scene in the 1980s. He spent most of the 1990s in Europe, where he was Visiting Artistic Director of STEIM in Amsterdam, and a DAAD Composer-in-Residence in Berlin. From 1997–2017 he was Editor-in-Chief of the Leonardo Music Journal. Since 1999 he as been a Professor in the Department of Sound at the School of the Art Institute of Chicago, and since 2016 a Research Fellow at the Orpheus Instituut in Ghent.
Collins was Edgard Varèse Guest Professor in Computer Music at the Technische Universität Berlin (2013–2014); David Tudor Composer-in-Residence at Mills College in Oakland, CA (2013); Visiting Professor at Instituto de Música of the Pontificia Universidad Católica de Chile in Santiago (2014); and has been a visiting artist and lecturer in Europe, Asia, the Middle East, and North and South America.
Collins' music is rooted in the homemade circuitry movement that developed in the USA in the early 1970s under the influence of pioneering composer/luthiers such as David Tudor, David Behrman, and Gordon Mumma. His book, Handmade Electronic Music: The Art of Hardware Hacking (Routledge, 2006), helped launch the "post-digital" DIY circuit movement, and has influenced emerging electronic music worldwide. Collins is also an early adopter of microcomputers for live performance, alternative musical controllers, interactive work for conventional acoustic instruments and electronics, and live video scoring.
www.nicolascollins.com