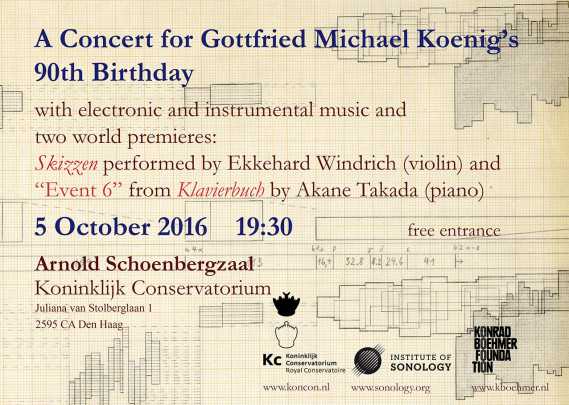 ---
Koenig became artistic director of the Studio for Electronic Music at Utrecht University in 1964.
This studio transformed into the Institute of Sonology in three years time.
Koenig stayed artistic director until the Institute of Sonology moved to the Royal Conservatoire in 1986, which is now exactly 30 years ago.
We are very happy to announce a birthday concert with two world premieres: Koenig's Skizzen (2014) for solo violin, performed by Ekkehard Windrich, and "Event 6" from Klavierbuch (2013) for piano, performed by Akane Takada.
In addition there will be a new multi-channel version of Koenig's electronic composition Terminus X (1967), and the graduation work Int_Ratio (2016) by Ruben Brovida, which was inspired by Koenig's Terminus.
You are all invited to celebrate with us and the maestro himself!
This concert is organised in collaboration with the Konrad Boehmer Foundation.